MYSTICAL FEMALE SOUNDS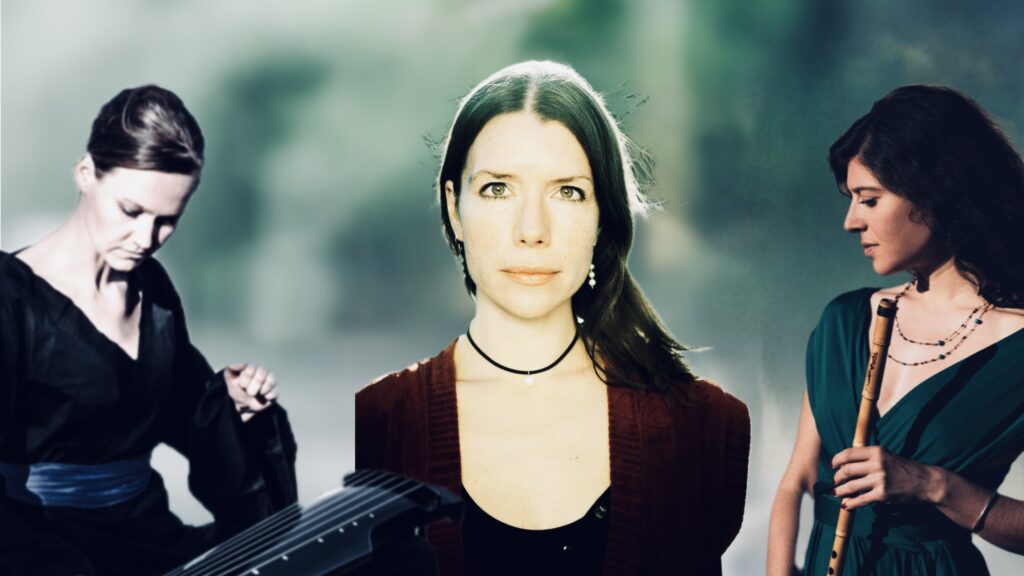 We conjure up a cocreative fusion of western of western & far eastern sounds
on instruments like the Chinese
Gu Qin – a 3000 year old temple instrument of Taoism, the Slovak overtone flute Fujara,
the Ney – an oriental – flute from the Sufi tradition, from the mystic of the Orient.
As well as with the worldwide spread shaman drum, as well as a siren-like female voice,
which make the universal sound of the whole experienceable…
Music emerges from the free moment, as we engage with it and receive the sounds that happen through us. This always gives birth to the unexpected and surprising moments for us and the audience.
The meditative effect that arises enables a deeper letting go, which can lead to harmonization to healing effectiveness.
::: feat. VALENTINA BELANOVA

Italian by birth, lives in Germany. Her background is European classical music, especially early music and traditional music from Italy. As a freelance musician she is active in the German
transcultural music scene. She plays
Turkish and Arabic Ney, Zurna, Bagpipe,
Duduk, Kawala and many other wind instruments of the world.
She works with traditional groups and classical ensembles from Syria, Egypt, Algeria, Tunisia, Iran, Italy, Turkey, Greece, Bulgaria, Germany, and many others.

Das Duo MAGIC of SOUND

 

::: Saskia Baumgart

on vocals, guitar and various sound percussion instruments, like the shamanic frame drum that invites you to travel, a body tambura, sansula, gong, singing bowls and a siren voice that transforms.


Lilia plays an instrument rich in overtones, a seven-stringed zither, the Gu Qin, a temple instrument of ancient China, which reminds us of the Daoist culture with its tones and combined with the Slovakian overtone flute- Fujara, takes us into distant and new worlds.
TIME
7:30 p.m. Admission
8:00 start
TICKETS
Die Tickets für unser Konzert sind an der Abendkasse erhältlich
Rechtzeitiges Kommen sichert  Dir und Euch die besten Plätze!
20€ /erm. 15€
CONTACT
info@magicofsound.net
Tel.: Lilia: 0162 2076430