M A G I C o f S O U N D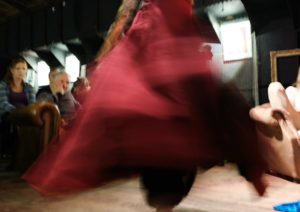 feat. D A N C E
Concert & Performance feat. BRIDGE MARKLAND & INGO REULECKE
This evening we share our sacred space with two masters of body-movement-art:
Ingo Reulecke and Bridge Markland will translate the sound that emerges in free flight
into a dance-like and performative way.
In the free space, the place leaves for the case.
What arises here is a deliberately unpredictable size.
Clear is only a total presence in the moment that requires it.
We play and dance with the big unknown
MAGIC of SOUND
… sounds from the realm of intuition and meditation;
to be able to enter into wholesome inner spaces
while their echo reverberates and vanishes.
Three alchemists on sound and singing,
which elicit sounds from the magic of the moment.
A sound ceremony that follows the creative logic of the present moment,
visionary inspired and nourished, with audible love in invisible form.
SASPERELLA aka Saskia Baumgart <> Vocals & Sound Magic
is meditatively active in singing, playing the guitar and sound percussion,
such as the shamanic frame drum,
that invites you to travel inside,
a body tambura, sansula, kigonki
and a siren voice that transforms.
MIROSLAV GROSSER <> Overtone Singing, Violin & Sound Magic
is meditatively active on the violin, e-violin & overtone singing
with the peculiarity, two melodies in one voice
to sound at the same time and with instruments
To tell stories that enchant and touch.
INGO REULECKE <> Dance // Performance & Real Time Composition
After his contemporary dance education Ingo Reulecke studies choreography at the Academy of Dramatic Arts "Ernst Busch" Berlin. His choreographies have received numerous awards
and have been invited to numerous festivals in Germany and abroad.
2006-2013 Ingo Reulecke takes over the direction of the dance department
at "Ernst Busch" Academy of Dramatic Arts. From 2006 – 2012 he is elected to the directorate of
"Hochschulübergreifendes Zentrum Tanz" Berlin.
http://ingoreulecke.com/
BRIDGE MARKLAND <> Dance // Performance & Play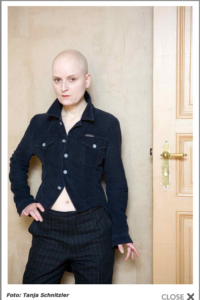 The Berlin-based performer is a virtuoso of role-playing and transformation. An artist who easily crosses all boundaries between dance, theater, performance, cabaret and puppet theater.
Her special specialty is gender performances where the audience witnesses the change from woman to man (or Vice Versa) live.
She is a pioneer of drag and gender performance in Germany and has organized Drag King events, tours and festivals.
Bridge Markland showed her short and full-length productions in Germany, Europe, USA, Canada and Australia.
https://bridge-markland.com
Doors open: 7.45 pm
PRICE: 18/15 €At the end of the month, on the 30th of November,
we will give a concert in our full cast, as a trio, with LILIA.
Both performances will take place in
Kapelle am Urban in Berlin-Kreuzberg <
We look forward to seeing you!